Muhammad Sami Tariq, now in the employ of WMB Childcare, is a highly skilled web developer with a distinguished career spanning over four years. He is renowned for his expertise in crafting dynamic, visually captivating websites that leave a lasting impression.
Specializing in WordPress and Shopify development, Sami is dedicated to enhancing user experiences by applying UI/UX design principles with precision.
Sami's journey in the world of web development has been marked by his commitment to translating client requirements into innovative and functional web solutions that consistently surpass expectations. His unwavering dedication to producing clean, efficient code, implementing responsive design techniques, and optimizing performance ensures the highest quality outcomes in his projects.
One of Sami's remarkable strengths is his ability to effectively manage multiple projects concurrently. He thrives in fast-paced environments, maintaining an impressive track record of delivering projects on time, all while maintaining the highest standards of quality.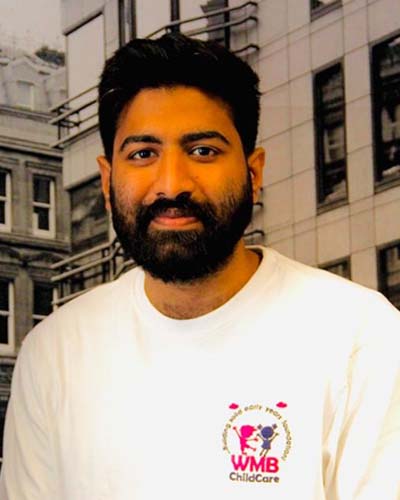 IT Consultant | MSc C Security
Sami's academic background is a testament to his dedication to continuous learning and excellence. He holds a Master's degree in Cyber Security, Threat Intelligence & Forensics from the esteemed University of Salford, where he honed his skills in security and data analysis. His educational journey began at the University of Education, where he earned his Bachelor's degree in Information Technology.
Now, as Sami embarks on his professional journey with WMB Childcare, he brings his wealth of knowledge and experience to the organization. His passion for web development, strong work ethic, and commitment to excellence will undoubtedly contribute to the continued success of his future endeavors with the company.
Our promise to you is that we will build the early years foundation of your child with C.A.R.E