Karolina Tatur is the esteemed Nursery Coach at WMB Born2Win Day Nursery, holding a BA in Childhood Studies, and currently pursuing L4 Safeguarding certification. With a profound dedication to the well-being and development of children in her care, Karolina's passion and enthusiasm drive her to continually strive for excellence.
Karolina embarked on her journey in childcare at the age of 18, embracing it as her true calling. Her life experiences have connected her with diverse individuals from various backgrounds, beliefs, and opportunities. Her innate passion for human nature and child development fuels her commitment to making the world a better place for young minds to flourish. Throughout her childcare journey, Karolina consistently seeks to expand her knowledge, providing a safe, secure, and enjoyable environment for children to thrive.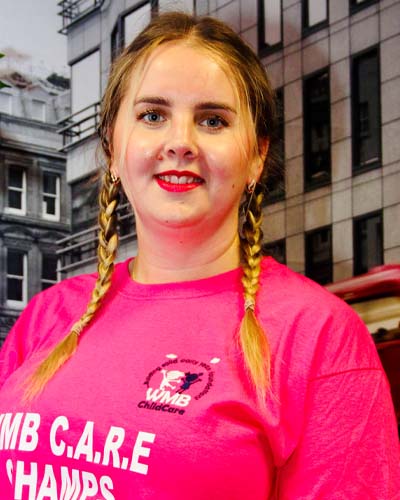 Nursery Coach | BA (Hons)
Having completed her BA Hons in Childhood Studies in 2018, she went on to accomplish the Supporting Children with Challenging Behavior course and is presently dedicated to attaining Safeguarding Level 4. Furthermore, she aspires to pursue further qualifications in SEND and CL, staying abreast of evolving industry standards.
Karolina firmly believes in the adage, "It takes a village to raise a child." In addition to her own professional development, she actively imparts her knowledge to her team, fostering opportunities for their growth and enhancement.
Possessing exceptional organizational skills and a goal-oriented mindset, Karolina exudes positivity and warmth in all her interactions. Her ability to forge beautiful relationships with staff, children, and parents is truly commendable. Always attentive and approachable, she is ever ready to lend her support whenever and wherever needed.
Karolina Tatur's unwavering commitment to childcare and her dedication to continuous improvement make her a valuable asset to the WMB Born2Win Day Nursery team.
Our promise to you is that we will build the early years foundation of your child with C.A.R.E