Jade Finnegan, an integral member of the WMB Cornerstone Day Nursery, boasts over 6 years of hands-on experience in the childcare sector, significantly shaping the childcare landscape in Manchester.
Initiating her journey at WMB Childcare as an eager apprentice at 16, Jade has displayed unwavering dedication and commitment. Ascending the ranks, she completed both her Level 2 and 3 qualifications within the company, a testament to her determination and growth.
Throughout her career, Jade has nurtured children ranging from infants to preteens (0-11 years), and her empathetic nature shines as she's worked extensively with children having additional needs. These experiences have only reinforced her passion, determination, and love for her work.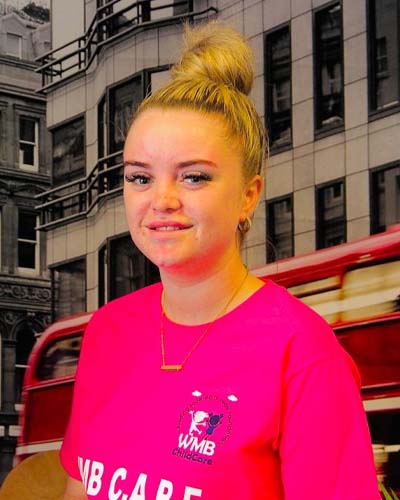 After School Coord | Level 3
To stay at the forefront of childcare innovations, Jade has continually sought personal growth through a myriad of developmental courses and training sessions. She credits her accomplishments to the unparalleled support from WMB's stellar management team, which she fondly refers to as her extended family.
In Jade's words: "With each passing year at WMB, I've adopted innovative approaches, backed by an encouraging team that values and recognises my efforts. My mission is to witness the continuous growth and learning of our children. And while I've come a long way, my journey is far from over. I'm committed to flourishing within WMB Childcare for many more years to come."
Our promise to you is that we will build the early years foundation of your child with C.A.R.E