A Passionate Advocate for Children's Well-being
Folake is a dedicated childcare professional with over two decades of experience in the field. Her journey in the childcare industry began in 2007 when she embarked on a career as a childminder. Her commitment and exceptional care for the children under her charge soon earned her the coveted "Outstanding" grade by Ofsted, a testament to her dedication and expertise. She soon became a support Childminder for the Manchester Council.
In 2013, fueled by her passion to provide the best possible environment for children's growth and development, Folake and her husband took a significant leap by becoming a nursery owners. In a remarkable display of ambition and drive, they successfully established three nurseries within just six months. Demonstrating her unwavering commitment to excellence, each nursery received a "Good" rating in their first inspection, which quickly escalated to an "Outstanding" rating during the subsequent inspections.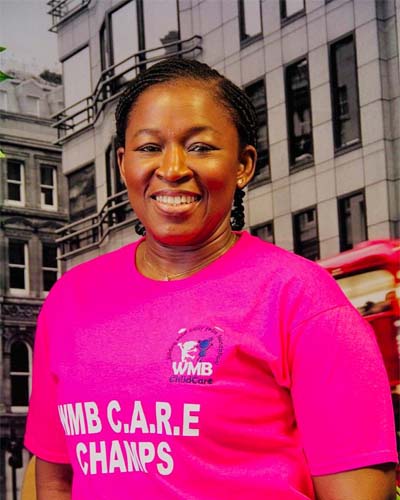 Operation Director | BA (Hons)/EYPS
Her relentless pursuit of excellence didn't stop there. Driven by the desire to positively influence the childcare sector as a whole, Folake become an Ofsted inspector herself. Her firsthand experience as a nursery owner and her in-depth understanding of child development and nursery management brought a unique perspective to her role as an inspector. She consistently strives to ensure that early childhood settings provide the highest standards of care and education for young children.
Folake's work ethic is second to none, and her passion for children shines through in everything she does. Her colleagues and staff find her approachable and supportive, always willing to lend a helping hand or offer guidance. While she may be perceived as someone who sets high standards, it is all driven by her deep-rooted commitment to ensuring the best outcomes for the children in her care.
One of the hallmarks of Folake's leadership is her hands-on approach. Despite her role as a director, she can often be found engaging with the children directly, fostering a warm and nurturing atmosphere in her nurseries. Her genuine care and connection with the children and their families create a welcoming environment where children can thrive.
Folake is practising what she preaches as she has two well-rounded children, Foluwaso, and Japheth, who share her passion and dedication. Together, they form a formidable team that continuously strives to improve and innovate in the childcare industry.
In summary, Folake Omole's exceptional journey in childcare showcases her as a beacon of passion, expertise, and dedication. Her profound impact on children's lives and her unwavering support for her colleagues make her a remarkable and influential figure in the field of early childhood education.
With her warm smile and nurturing approach, she leaves an indelible mark on everyone she encounters, truly embodying the essence of caring for children and shaping their futures.
Our promise to you is that we will build the early years foundation of your child with C.A.R.E