Ebaide Vivian Agho, a dedicated and passionate individual who has found her calling in working with children. With a strong belief in the importance of early childhood development, Vivian is committed to providing exceptional care and ensuring the safety of children while they learn and interact with their peers in various WMB settings across Manchester.
Vivian firmly believes that laying a solid foundation during the early stages of a child's life is crucial for their overall development and future success. With this belief at the core of her work, she is dedicated to creating a nurturing and disciplined environment that fosters growth and learning in every child she encounters at the various WMB settings. With over seven years of professional experience in working with children, Vivian has developed a deep understanding of their needs and abilities.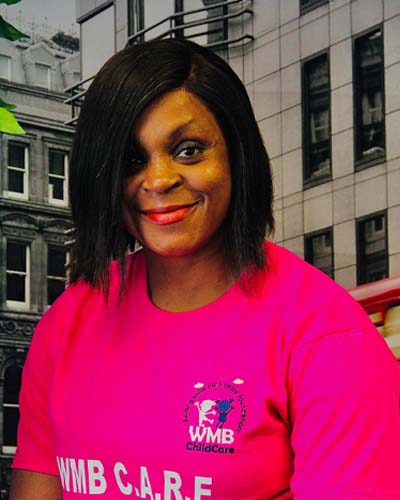 Her expertise extends to various aspects of childcare, including providing emotional support, facilitating educational activities, and promoting social interaction among children.
Vivian's commitment to her profession is evident in her pursuit of higher education. Having completed her first degree, she is currently studying for her Masters in Early Childhood Education. This academic endeavor allows her to deepen her knowledge and understanding of the field, equipping her with the latest research and best practices to enhance her ability to positively impact the lives of children.
Throughout her career, Vivian has demonstrated a strong work ethic, a genuine love for children, and a passion for continuous growth and development. She is intentional about advancing her career in early childhood education, constantly seeking opportunities to expand her skills and knowledge through workshops, conferences, and professional development programs.
As a WMB Coach, Vivian understands the importance of collaboration and actively engages with parents and educators to create a supportive network that benefits the children under her care, Vivian is also the designated safeguarding lead officer of the WMB Born to Reign day nursery.
When Vivian is not immersed in her work, she enjoys spending quality time with her own family, exploring new educational resources, and staying up-to-date with the latest trends and research in early childhood education.
Ebaide Vivian Agho is a dedicated childcare practitioner who is making a significant impact in the lives of children across WMB ,With her wealth of experience, ongoing education, and unwavering passion, she is shaping the future of young minds and ensuring that they have the best possible start in life .
Our promise to you is that we will build the early years foundation of your child with C.A.R.E