Claudia is the Area Coach of WMB Childcare Ltd, a professional with a wealth of experience in the childcare and special education fields. As one of the longest-serving members of the senior management team, Claudia's contributions have been instrumental in shaping the success and growth of the organization.
Claudia holds an impressive array of qualific ations and certifications, demonstrating her commitment to excellence in her profession. She possesses a Level 6 qualification in Childcare and a Level 3 qualification in Team Leading & Supervision, both awarded with distinction, showcasing her exceptional expertise in leading and guiding teams effectively.
Furthermore, Claudia holds a bachelor's degree in Special Education, reflecting her profound dedication to supporting children with special educational needs.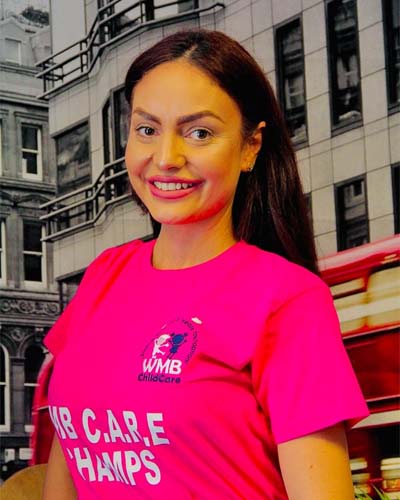 Throughout her career, she has actively engaged in continuous learning and development, undertaking a series of training programs to stay up-to-date with the latest practices and methodologies for effectively supporting children with special needs. Her in-depth understanding of Inclusion & SEN values and priorities forms the bedrock of her daily practices, ensuring that every child receives the utmost care and attention they deserve.
With an impressive tenure of over 11 years in the childcare sector and an additional 8 years in Special Education Needs, Claudia's experience speaks volumes about her expertise. She has worked across various WMB nurseries, leaving a positive impact on children's development and nurturing strong relationships with parents. As a role model for the staff, she sets the highest standards of professional practice.
Claudia's passion for working with children with SEND is evident through her pursuit of advanced training and qualifications. She has successfully completed the Wellcome and SENCO training, equipping herself with the necessary tools to provide exceptional support to children with special needs. Her collaborative nature is evident in her close working relationships with agencies like Rodney House, SALT teams, and CAMHS, ensuring a holistic approach to each child's development and well-being.
Furthermore, Claudia is well-versed in quality assurance frameworks, leveraging her extensive knowledge to collaborate with designated quality assurance officers from the Manchester City Council. Her efforts have contributed to the consistent fulfilment of high-quality standards across all settings within WMB Childcare Ltd.
Passionate about fostering inclusive practices, Claudia is currently undertaking the Dingley's Promise course. This further exemplifies her commitment to creating an environment where all children feel valued, respected, and empowered. Claudia's dedication, expertise, and passion make her an invaluable asset to WMB Childcare Ltd, playing a pivotal role in providing exceptional care and support to children and their families. Her relentless pursuit of excellence ensures that the organization remains at the forefront of the childcare and special education sectors.
Our promise to you is that we will build the early years foundation of your child with C.A.R.E