Meet Christopher Drummond-Welsh, an enthusiastic and dedicated individual with a zeal for nurturing young minds in the world of childcare. At the age of 24, Christopher holds a Level 3 qualification in childcare and is actively pursuing a BA honors in early childhood.
Christopher's passion for early years runs deep, and it's no wonder why. Growing up in a large family, he was constantly surrounded by children, where everyone pitched in and mucked in together. These cherished memories and experiences ignited a profound sense of fulfillment and
purpose in Christopher's heart, shaping his commitment to supporting children during their most crucial years.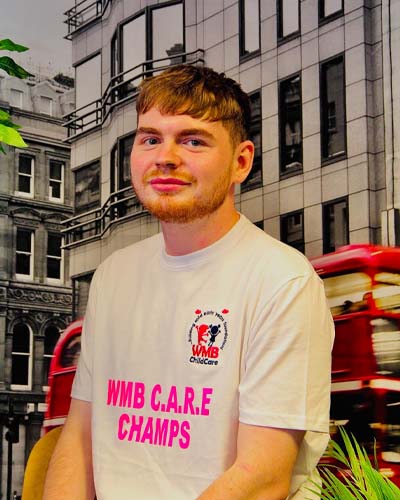 With an impressive six years of experience in the field, Christopher has gained a profound understanding of child development. But it's not just expertise that drives this aspiring deputy coach; it's an unwavering passion. For Christopher, watching children achieve their milestones is the best feeling in the world. Their eyes light up with wonder, and it's as if they're embarking on a magical journey of growth and exploration.
Christopher's dedication to his role as a deputy coach extends beyond the nursery walls. It aligns seamlessly with WMB's mission of laying a solid foundation in the crucial early years of a child's life. This harmony of purpose resonates deeply with Christopher's personal views on supporting children in their formative and transformative years.
With an innate ability to connect with children and a heart full of warmth and compassion, Christopher Drummond-Welsh is set to make a significant impact on the young learners and the cherished community of WMB. The future is bright, and the children are in capable, caring hands.
Our promise to you is that we will build the early years foundation of your child with C.A.R.E