Christianah Familehin is a highly qualified level 3 childcare practitioner with a remarkable career spanning over 13 years across diverse childcare settings. Possessing a Level 5 accreditation in leadership and management, Christianah currently holds the esteemed position of Deputy Coach and Toddler Room Leader at Born2Win Day Nursery. She has recently achieved a Bachelor's degree, BSc (Hons), in Social Policy, further enriching her skill set.
Christianah's pursuit of a career in childcare is rooted in her genuine passion for working with children. Her profound connection with children brings her immense joy and fulfillment. She is deeply committed to ensuring their well-being and providing them with ample opportunities to learn and realize their potential. Every interaction Christianah shares with children is an embodiment of her dedication to infuse joy, laughter, and quality education within a safe and nurturing environment, fostering positive outcomes for each child.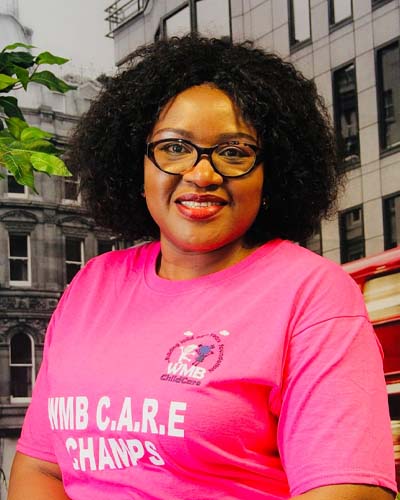 Christianah's affinity for her role as a practitioner is complemented by her comprehensive understanding of social policy. This knowledge amplifies her contribution to the company's core values, aiding in compliance with safeguarding and child protection protocols. This commitment extends to the well-being of children, colleagues, and all stakeholders associated with the nursery.
Christianah approaches each day at the nursery with a fervent desire to ensure a joyful and purposeful experience for every child. She actively engages parents and caregivers from the outset, cultivating relationships that are built upon consistent feedback and involvement, spanning from induction to settling-in phases. Inclusive practices remain a cornerstone of her approach.
Outside her professional responsibilities, Christianah indulges in clothing design as a hobby. Her aspirations extend to establishing her own chain of businesses in the future. Balancing her schedule, she prioritizes spending quality time with her children and participating in her church community. Christianah's inherent nurturing nature is the driving force behind her unwavering commitment to her role as a caregiver.
Our promise to you is that we will build the early years foundation of your child with C.A.R.E