Andrew, the dynamic Chief Executive Officer of WMB Childcare, stands as a beacon of dedication and leadership.
Merging an intricate knowledge gained from an MSc in Leadership and Business Management from Newcastle Business School (Northumbria University) with Godly wisdom and hands-on experience in operating successful nurseries, Andrew has carved a niche that uniquely blends visionary business strategy with compassionate care.
A charismatic leader, Andrew's presence reverberates even in the smallest corners of WMB Childcare. It's not uncommon to find children from various base rooms excitedly interrupting their routines to share stories or activities of the day with him.
Beyond just knowing the names and positions of all staff across various company sites, Andrew's personal rapport extends to remembering the names of almost all the children and maintaining warm relationships with their parents. It's this profound connection and genuine concern for others that distinguishes Andrew and propels WMB Childcare forward.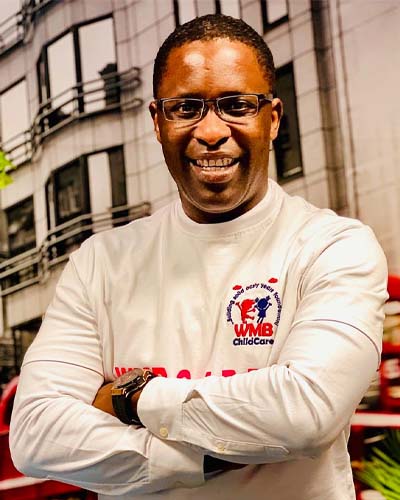 Chief Exec | MSc Leadership
With an unwavering belief in the potential of each individual, Andrew extends his expertise as a seasoned mentor, trainer, and life coach. He developed the esteemed training and development platform, tailoring bespoke training to address organizational challenges and elevate professional performance. This emphasis on development doesn't stop with his external interactions.
Andrew ardently supports both formal and informal learning, having pursued Continuous Professional Development (CPD) courses from prestigious institutions like Cranfield University, and holding a Bachelor's honours degree in Agricultural Technology alongside advanced managerial training tailored for the Third Sector.
His vision for WMB Childcare is clear and ambitious. He envisages the nursery evolving as the 'go-to' establishment within the North West and beyond, driven by the company's marked success and influence within local communities. Andrew firmly believes that the UK's future hinges on the holistic care — Social, Spiritual, Physical, and Emotional — provided to children today.
Outside his professional accomplishments, Andrew's heart lies with his family and philanthropic endeavors. He's married to the radiant Folake, blessed with two exemplary children, and serves as a trustee for The Liberality Foundation. This balance of business acumen, relentless advocacy for education, and deep-seated compassion make Andrew a truly transformative leader in the world of childcare.
Our promise to you is that we will build the early years foundation of your child with C.A.R.E